---
Learn About The NRS Point of Sale+ Watch this overview video of our software and see what makes our POS system unique
---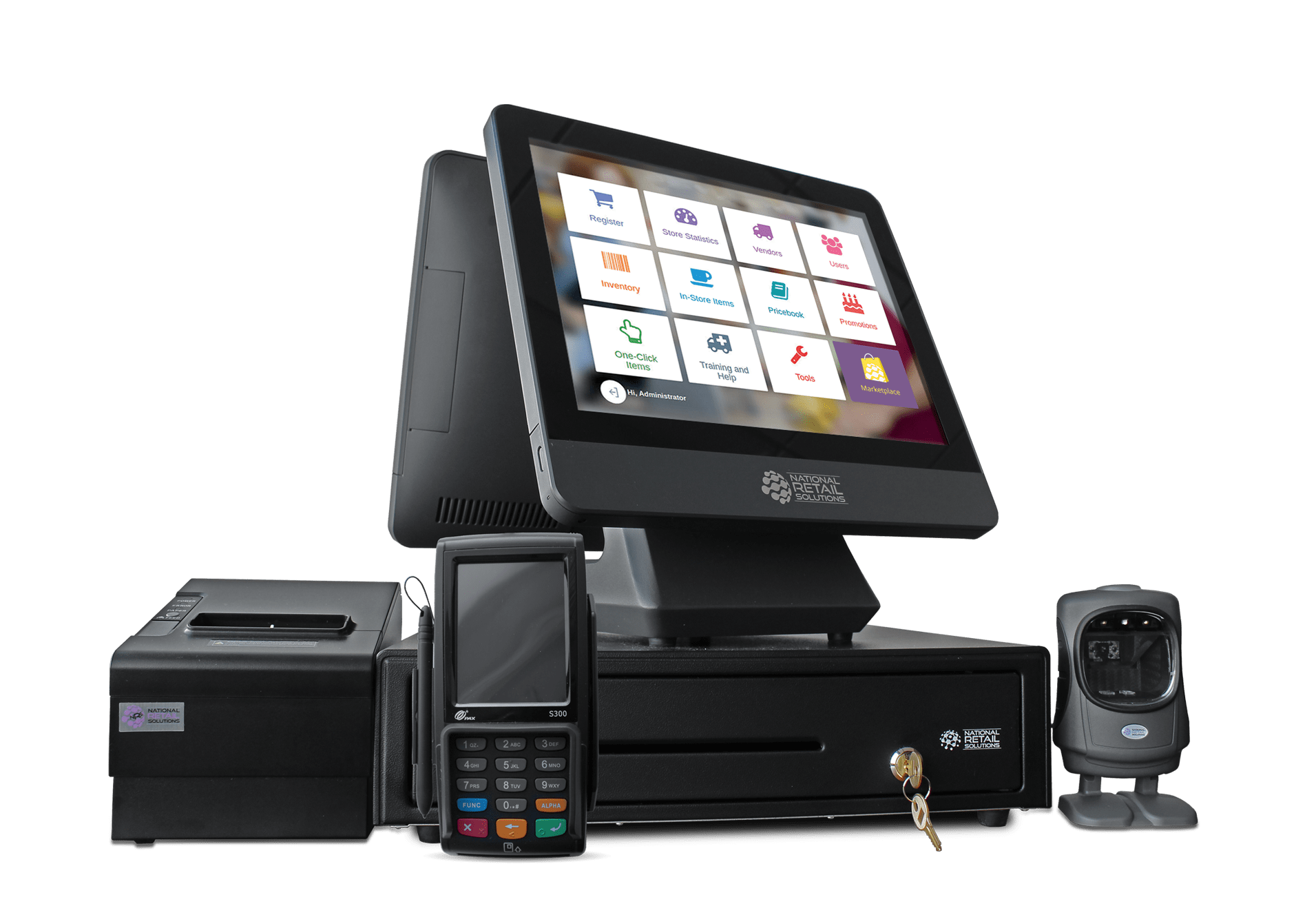 Simplify Your Business
The industry-leading NRS POS System Bundle comes with everything you need to provide a smooth and fast checkout experience to your customers. Our software helps you efficiently manage your store using a suite of tools designed for retail & convenience stores.
What's Included
Dual-Facing POS Display
Barcode Scanner
Receipt Printer
Cash Register Drawer
Credit Card Reader
*Requires Merchant Services
---
So Much More Than a Cash Register
If you want a cash register for your small business, you can go above and beyond with a point-of-sale (POS) system such as POS+ that includes a cash register. POS+ comes with all the hardware and software you need to make and manage sales. Compared to a typical cash register with a card reader and barcode scanner, POS+ offers so much more. Consider choosing POS+ instead of a cash register for your small business for benefits such as:
Powerful hardware: POS+ includes a cash register drawer, barcode scanner and optional card reader, as well as plenty of other hardware. Take advantage of a full set of equipment that features a receipt printer, touch screen, customer-facing screen, backup battery and more.
Versatile software: While a cash register only has hardware, POS+ has hardware and software. Intelligent NRS software processes your sales, tracks your performance and manages employee shifts in addition to many other capabilities.
Business support: As a service from National Retail Solutions, Inc., POS+ comes with the dedicated support provided by our team. Enjoy added features such as loyalty software and contact us at any time for assistance.
These advantages and more make POS+ a comprehensive business solution.
Why Choose POS+ Instead of a Cash Register for Your Small Business?
While you may think your small business only needs a cash register with a barcode scanner, you can especially benefit from POS+ features. POS+ empowers small business owners to:
Make data-based decisions: The analytics in POS+ let you identify trends so you can run your business on trusted information.
Speed up business: POS+ gives you a faster checkout, inventory management process and more.
Provide superior customer service: Bring in more business with promotions, loyalty programs and customer-facing ads.
POS+ gives you the resources you need to become a major competitor in your market and keep up with larger chain stores.
---
Everything You Need To Start Selling
As the All-in-One POS System, POS+ has a full range of features tailored for businesses of all sizes. Unlike a standard cash register, POS+ supports the sales process from start to finish and provides additional business resources. Our comprehensive POS has these features and more:
State-of-the-Art Hardware
All the equipment you need to speed up the checkout process comes included in the POS+.
More Ways to Earn Money
The POS+ offers ways to help you make more money, including the ability to sell Boss Revolution directly from your POS.
Setup & Training Included
Our specialists will help get your POS system up & running in no time. We'll even train you to maximize the benefits of our system.
Fully Integrated
Accept all card payments, including Credit, Debit & EBT, when you integrate card processing with the POS+ system.
Store Management Tools
Control user access, monitor inventory levels and manage promotions all in one place with our POS system.
Reliable Support Service
Whether your having trouble with our system or have a simple question to ask, NRS is here to help you.
Data Analytics & Tools to Help You Run Your Business Efficiently
POS+ has technical capabilities that you won't find in a typical cash register with a card reader. It can organize your business with the following robust features:
Store Analytics
Track your sales, manage your expenses & see sales reports of your promotional offers with this point of sale cash register software.
Product Configurations
Configure your products & departments or choose from 100,000's of products we've preloaded for you.
Inventory Management
Manage your inventory levels and get alerts when you are running low on specific items.
User Permissions
Control the features that each of your employees can access for better security and ease of use.
Remote Monitoring App
Access POS+ from anywhere with an internet connection by using the free mobile app.
Customizable Promotions
Manage custom store promotions that automatically apply to qualifying transactions.
Compatible With NRS Pay Payment Processing Services
For the most comprehensive POS solution available for small businesses, we recommend pairing POS+ with our payment processing services. NRS Pay makes it easy to accept the most popular payment types. Our card reader accepts all major credit cards and mobile payments, as well as EBT. As a result, you'll increase your customer base and improve their shopping experience. We charge a low flat rate and provide you with our card reading machine for free when you sign up for certain plans.