THE ULTIMATE POS SYSTEM FOR YOUR BUSINESS
National Retail Solutions' industry-leading Point of Sale system is packed with retail solutions that will help grow your business.
Everything You Need To Compete in Today's Retail Environment
Tools that will help your business grow and excel in the competitive retail business environment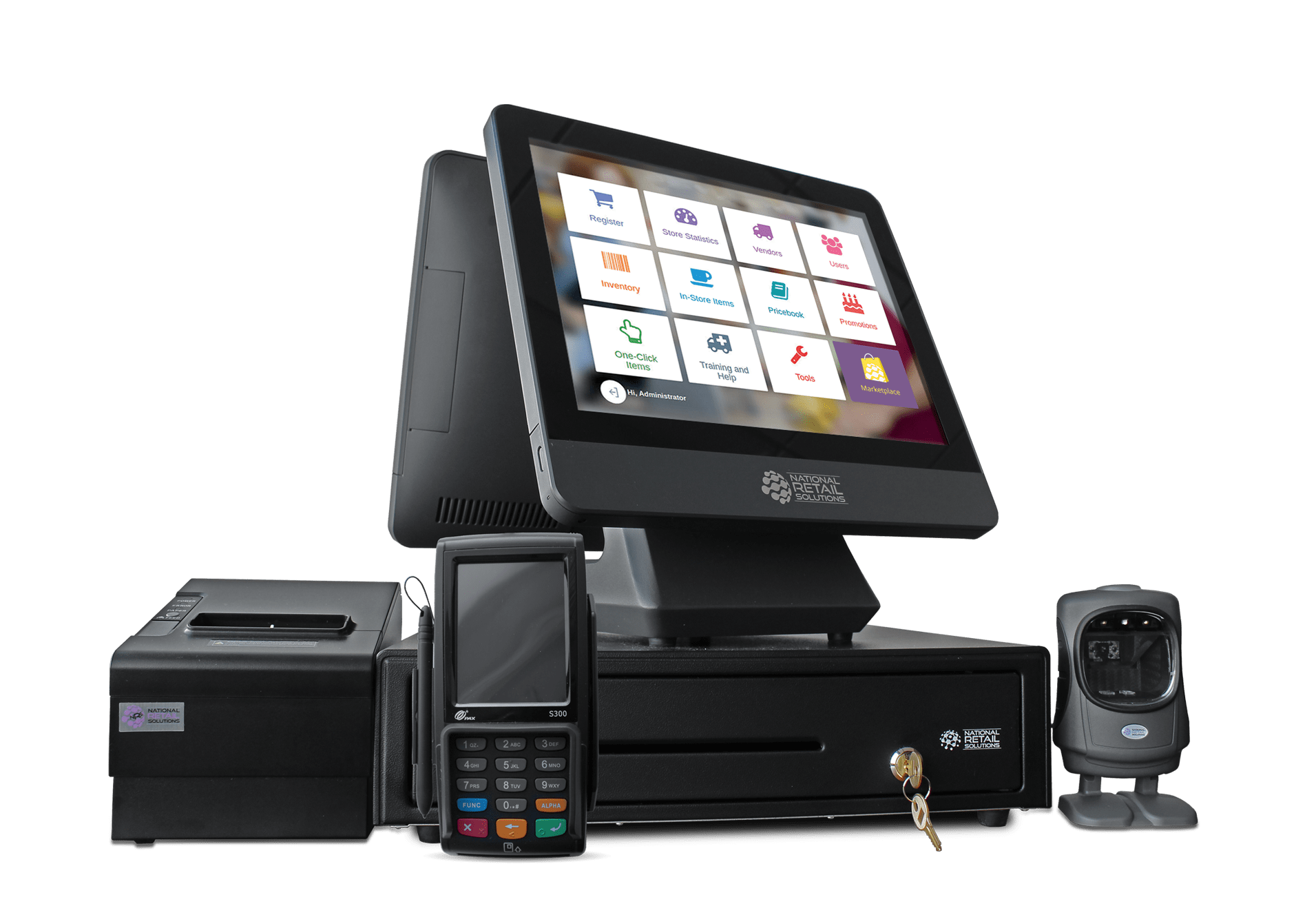 Heavy-Duty Hardware
Our POS+ Bundle comes with everything you need to provide a quick and seamless checkout experience. A combination of dependable hardware and sophisticated software makes POS+ the world's greatest Point of Sale system.
Included in the Point of Sale Bundle
*Credit Card Reader requires 3-year merchant services agreement.
State-of-the-Art Software
The Elmer software included in our POS system is designed to be the ultimate management system for your store.
Monitoring your expenses & understanding your customers' purchasing
behavior can give you the insight you need to gain an advantage over competitors.
---
Take a Look at How We've Expanded in the Last Few Years
10,000+
POS systems installed throughout the U.S. in the past 3 years!
3M+
Existing BR Club Loyalty Program members throughout the country
$10M+
Generated in 2018 through Boss Revolution transactions via the POS+
35M+
Average amount of transactions performed monthly on our POS+ System.
Store Management App Available
Monitor your store data via your NRS portal or via the "My NRS Store" mobile app available in both Google Play and the Apple App Store. "My NRS Store" offers many of the features available in our Point of Sale system on mobile devices. Now you can manage your store from anywhere!
Earn more per transaction with
Accept all forms of payments, including credit card, debit card, contactless payments, EBT & eWic With NRS PAY.
Works With

FLAT LOW RATE
2.49%
Per Swipe, Dip or Tap

Sell Boss Rev
Sell Boss Revolution Products & Services
Directly From the NRS POS.
The NRS Point Of Sale+ provides your store with more ways to earn money
by offering Boss Revolution's award-winning services:
PINLESS CALLING
International calling service
that works on any phone
MOBILE TOP-UP
Instant domestic prepaid recharge for your phone
BILL PAY
Conveniently pay all of your bills in one location
MONEY TRANSFER
Transfer any amount to any country at any time
The NRS POS+ Comes with
One-of-a-Kind Loyalty Software
Store promotion features turn your Point of Sale system into an easy-to-use marketing tool. Reward your loyal customers with unique offers and promotions in two different ways:
Create in-store promotions with any item in your store using the POS+ Promotions feature.
NRS has created a nation-wide grocery discount program exclusively for POS+ stores.
In addition to reliable customer support, NRS offers an in-depth online training and help center, with troubleshooting guides and training videos to help you get a better understanding of our POS system and its software features. Visit CampNRS.com to learn more.
We're Here to Help
Your Business Grow.
National Retail Solutions offers a network of services
and solutions to help grow your business in a competitive
retail market. In addition to a state-of-the-art POS system, you'll get easy-to-integrate services and a knowledgable support team. Click on the video now to learn more about us!
#1 RANKED POS

for
Small and Medium Sized Businesses

-Information Age Magazine, 2019
See What Our Customers Are Saying About Us

Andy Patel
I am really happy to have work with NRS. They has such high performance quality and provide services that make us feel satisfied that we have chosen them.
Felix Mota
This POS system is unique. the state-of-the-art technology provides many different features that improve the quality of your business and attract customers.
Maria Ortega
It speeds up my process, keep my inventory in one place and allows me to accept coupons. I use the BR Club to create rewards for my customers.
var urgentnotice = "
At NRS, we understand how disruptive the COVID-19 pandemic can be to our partners and customers, and we are deeply committed to helping your business during this challenging time. We are all in this together!
Please click here for detailed information.
";
$(document).ready(function(){
if (document.cookie.replace(/(?:(?:^|.*;\s*)urgentNRSMsg\s*\=\s*([^;]*).*$)|^.*$/, "$1") !== "true") {
$( "#navbar-effects > .container-fluid" ).before( urgentnotice );
$(".emergency-msg-close").click(function(){
$(".row.emergency-msg-row").slideUp();
//setcookie
document.cookie = "urgentNRSMsg=true; path=/";
});
}
});
.container.emergency-msg-content {
background: #f8edfa;
text-align: left;
color: #000;
font-size: medium;
margin: 0;
width: 100%;
padding: 10px 20px;
border: solid 1px purple;
}
.row.emergency-msg-row {
top: 0;
padding: 0px;
width: 100%;
margin: 0px;
position: relative;
z-index: 3000;
}
i.msg-exclamation {
font-size: red;
width: 50px;
display: block;
float: left;
text-align: center;
background: url(https://nrsplus.com/wp-content/uploads/2020/03/alert.png) no-repeat;
background-size: contain;
max-width: 50px;
position: relative;
height: 50px;
margin: 0 auto;
margin-right: 20px;
}
@media only screen and (max-width: 768px)(
i.msg-exclamation {
{
float: none;
margin-right: auto;
width: 35px;
height: 35px;
}
}